Landscaping
Summary
In the suburbs, it is a time consuming chore for families to do yard work and rake the leaves. But it does make the lawn look nice and the outdoor exercise is healthy. Families and neighbors who take care of their properties brings them closer together. In the past, homeowners used push reel mowers to cut grass and a rake to collect the leaves.
Today, homeowners opt for gas powered two-stroke mowers, hedgers, trimmers and leaf blowers. These products have ruined the peace of suburbs all over the country. Some hire gardeners and lawn care services to do the work for them. These companies use heavy duty landscaping equipment to cut the grass and blow away the leaves.
There are better alternatives. Homeowners can purchase lawn mowers and trimmers that are powered electrically. They produce far less noise pollution, they are more reliable and require less maintenance. And they generally cost less than their fuel-based counterparts. One issue with electrically powered equipment is that they must be tethered to an outlet, which may be difficult in large areas.
Homeowners looking for an ecological solution may want to reconsider push reel mowers. The latest models are much easier to use and better at cutting grass.
Leaf blowers blow particulate matter consisting of pesticides, fertilizers, spores, molds, dust, insects and fecal matter into the air. Gas powered leaf blowers burn a mixed combination of gas and oil fuel that create a tremendous amount of toxic exhaust.
Young children are at risk because their immune system is not yet fully developed and they are more susceptible to asthma. Elderly people exposed to airborne contaminants can experience severe lung and respiratory problems. Ironically, leaf blower operators are putting themselves at greater risk because of the direct exposure to airborne pollutants.
Gas powered landscaping equipment account for 5% of air pollution overall in the United States. An inefficient 3.5-horsepower gas mower emits the same amount of hydrocarbons in one hour as does an automobile driven over 300 miles. A chainsaw operated for two hours produces enough hydrocarbons equivalent to an automobile driven 3,000 miles.
Gasoline Powered Leaf Blower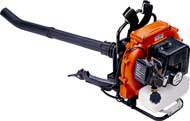 Leaf blowers produce noise pollution that ruins the peace of a neighborhood and they are also a safety hazard.
---
Industry
Manufacturers of leaf blowers include Black & Decker, Ryobi, Stihl, Echo Incorporated, Toro, Craftsman and John Deere. The biggest retailers of leaf blowers are Sears, Lowe's and Home Depot.
The manufacturers of landscaping equipment are members of the Outdoor Power Equipment Institute Incorporated (OPEI). They have influenced the Environmental Protection Agency (EPA) on existing and proposed legislation for equipment air and noise emissions standards.
The California Landscape Contractors Association, a trade organization released a position statement acknowledging the environmental harm caused by leaf blowers, but advocate its use simply because it could otherwise affect their profits.
Whirly-Wind Leaf Blower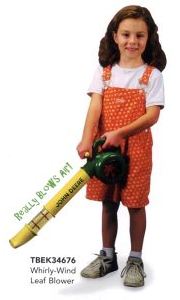 John Deere licensed its brand to a toy company to produce leaf blowers for children. It actually blows air.
---
Legislation
Communities in California, such as Beverly Hills, Santa Monica, Laguna Beach and Berkeley have enacted restrictions on leaf blowers. Other communities in across the country have also enacted legislation and public support is growing.